Advertisements
The Employee's Provident Fund Organization (EPFO) allots EPF number to all the members of EPFO through which they can check the status of their EPF account, EPF account balance, etc. In order to withdraw your EPF amount, you should know your EPF number.
In many cases, employees do not know their EPF number as they are unaware of the monthly contributions made in their EPF account through this scheme. The employer also not properly inform the EPF number to the employees. While working in an organization, it is important for the employees to know their EPF number as it will be difficult for them to know their EPF number after their resignation or retirement of the job.
The introduction of Universal Account Number (UAN) by the EPFO has made the process of knowing your EPF number much easier. Throughout the employee's employment period, the UAN which is assigned to every employee will remain the same. Employees can get their UAN from employer or by visiting the EPFO website. All the member IDs of the employee will come under one UAN.
Measures taken by EPFO during Covid-19:
The EPFO has delayed employers' deposits in EPF accounts due to severe cash flow disruptions during the Covid-19 lockdown period. The EPFO took this measure for employees to cope up with the financial stress. It also clarified that the employers will not be charged for making delayed deposits. More employers are likely to avail this benefit in this current situation. Around 6.5 lakh organizations in India are covered under EPF scheme.
According to the EPFO rules, the employers will be charged penalty for delay in deposits made after a grace period of 10 days. In order to escape from penalty, the employers need to deposit the PF amount on salaries by 15th of each month.
On March 26, 2020, the Indian Government has made an important announcement that employees who made a monthly contribution of 12% in their basic salary to the EPF account can withdraw their PF amount which is called as "non-refundable advance". This will help the employees in meeting financial challenges due to Covid-19 impact.
Employees can withdraw up to three months basic salary or 75% of their PF amount from their EPF account. To withdraw PF amount, your UAN should be active and your Aadhaar Card should be linked to your EPF account. You have to visit the official site of EPFO and submit your PF withdrawal claim.
Importance of EPF Account Number:
Using EPF account number, you can easily find UAN.
EPF number is necessary for employees to withdraw EPF amount.
EPF number is mandatory for employees to transfer EPF amount from their previous Member ID to current one.
EPF number is needed to check the EPF account balance.
Before the introduction of UAN, EPF account number played a vital role in EPF scheme. With the EPFO's introduction of UAN, UAN plays an important role in handling most of the functions in EPF scheme. If EPF number is the primary identity of the EPF account, UAN serves as the secondary identity.
How to find out EPF Account Number?
It is the duty of the employer to register a new employee in EPFO, allot him an EPF number and to check for timely EPF contributions. The employer plays a predominant role in the EPF scheme and he should check whether his employees receive their EPF number. If your employer fails to inform the EPF number, you can get your EPF number through any one of the following modes.
Visit your regional EPF Office:
You can get your EPF number by visiting your regional EPF office. In order to receive your EPF number, you need to approach the grievance cell, fill the grievance redressal form and should submit KYC details. Once your request is processed, you will get all details related to your EPF account.
Check your Salary Slip:
Mostly, your employer will mention your EPF number in your salary slip. Along with your EPF number, the EPF monthly contribution will also be mentioned in the slip. Do check your salary slip to get your EPF number.
Consult your HR Department:
If your company doesn't provide salary slip or you don't find your EPF account number in salary slip, you can get your EPF number by contacting the Human Resource Department at your workplace.
Use UAN Website:
You can also know your EPF number through UAN website. If you know your UAN, you can easily get your EPF account number in the EPFO website. Once you have logged into EPFO-UAN portal, you can get all your PF details.
How to know EPF Account Number with UAN?
If you have UAN, you can easily find out your EPF Account Number through UAN portal. UAN is a unique code provided to employees which can used to perform EPF account related operations. To get your EPF number,
Step 1: Visit UAN-EPFO portal https://unifiedportal-mem.epfindia.gov.in/
Step 2: In the UAN Member e-SEWA page, enter your UAN, password and captcha code. Click 'Sign in'

Step 3: Once you have logged into your EPF account, you can access your EPF account.
Step 4: Click 'View' menu and then select 'Service History'

Step 5: In service details, you will see your EPF account details

Format of EPF Account Number:
Your EPF Account Number is a combination of alphanumeric characters. The EPF account number contains the details of the EPF office which controls all operations of employee's EPF account and the code of the organization as well. The format of EPF account number is,
TN MAS 054110 000 0054321
In the EPF number given above, the first two letters represent the State. Here TN refers to Tamil Nadu.
The next three letters represent the regional office. Here MAS refers to the Chennai regional office.
The first seven numbers represent the establishment ID.
The next three numbers represent the extension code of establishment ID. Even big establishments have extension code for establishment ID. For most employees, establishment ID will not be present.
The last seven numbers denote the EPF number and it differs for each employee.
How to know UAN with EPF Account Number?
You need to enter your EPF Account Number in order to avail various services on the EPFO website. If you want to know your UAN, you can get it by using your EPF account number. To get your UAN using EPF number, just follow the steps given below.
Step 1: Visit EPFO website www.epfindia.gov.in to find your UAN.
Step 2: On the home page, click 'Services' menu and then click 'For Employees'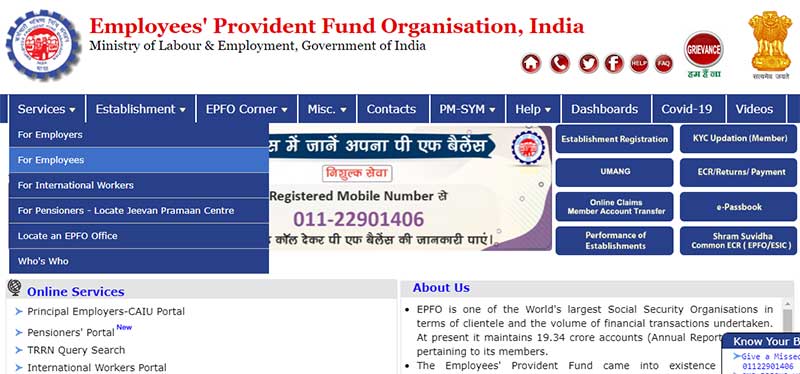 Step 3: On the employees portal, click 'Member UAN/ Online Service (OCS/ OTCP)' under Services.
Step 4: On the right side bottom of the page, click 'Know your UAN' under 'Important Links'

Step 5: On the next page, enter your mobile number and captcha code. Then click 'Request OTP'

Step 6: Enter the OTP sent to your registered mobile number and click 'Validate OTP'
Step 7: Upon successful validation of OTP, you will be taken to the next page where you need to enter your name, DOB and captcha code. Select any one option from Aadhaar/ PAN/ Member ID. If you have seeded your PAN and Aadhaar, you can select and provide that details. If not, select Member ID.

Step 8: Select your EPF state where the EPF account is opened. Choose your state which appears along with code from the list of various states available in the drop-down menu. The two alphabets represent the name of your state.

Step 9: After selecting your state, select your EPF office from the list of various offices available in the drop-down menu. The three alphabets denote the region of your EPF office.
Step 10: In the Member ID field, enter your establishment ID in the first block. Your establishment ID is the first seven digits of your EPF account number.
Step 11: After entering your establishment ID, enter the extension code. The extension code is the next three digits which follow the establishment code. Many establishments do not have extension code. In such cases, you can leave this field blank. You can only leave this field blank. Other fields are mandatory.
Step 12: Finally, you need to enter your Member ID. The last seven digits in your EPF account number represents your Member ID. Your Member ID contains a maximum of seven digits.
Step 13: After entering all details, click 'Show my UAN'. The UAN will be sent to your registered mobile number.
Things you should know about EPF Account Number:
Only the employee who works under the establishment covered under EPF act becomes the EPF member.
Though there is no age restriction to become an EPF member, employees who are above 58 years of age cannot become a member of Pension Scheme.
If an employee is working under the establishment without receiving any wages, he will not be given EPF membership.
An employee continues to be an EPF member even after he leaves the establishment as there are no restrictions in it.
If no contribution is made in the EPF account continuously for three years, the account will not receive any interest after the third year.
The employer of the establishment is not allowed to join EPF.
An employee can join EPF only by becoming an employee in an establishment under EPF and MP Act, 1952.
Employees who earn a monthly wage below Rs. 15,000 shall avail the benefit of Employees' Deposit Linked Insurance Scheme and Pension Scheme upon joining EPF.
The EPF member can retain the EPF amount in his/her account till withdrawal.
In order to file transfer claim in online, the member need to register in the EPFO portal.
---
Comments: