Advertisements
The advent of Aadhaar card has made the verification process much easier in all fields. It has been made mandatory to link your Aadhaar card with all important details such as bank account, PAN, mobile number,ration card, etc., If you have your PAN card without getting it linked with Aadhaar number, your income tax return (ITR) would not be processed and also you cannot make banking transaction above Rs.50,000. The Central Board of Direct Taxes (CBDT) has extended the deadline for linking PAN with Aadhaar number to September 30, 2019. PAN cards which are not linked with Aadhaar within the deadline will be subjected to cancellation.There are various services available through which you can easily link your PAN card with Aadhaar.
How to Link Aadhaar with PAN through SMS?
PAN card holders can link their PAN with Aadhaar number simply through SMS. To link PAN with Aadhaar,
Send a message in the format UIDPAN(space)(Your 12-digit Aadhaar Number)(space)(Your 10-digit PAN) to 567678 or 56161 from your registered mobile number.
How to Link Aadhaar with PAN in Online through e-Filing site?
PAN card holders can easily link PAN card with Aadhaar in the Income tax e-filing site. Just follow the steps given below to link your PAN card with Aadhaar.
Visit the site click here or open the corresponding web page to link aadhaar click here.
In the home page of the e-filing site, click 'Link Aadhaar' option under the 'Quick Links' which appears on the left-hand side.
It will take you to the new page where you have to enter all the details needed.
Enter your PAN, Aadhaar number and name as given in the Aadhaar card.
If you have only year of birth in your Aadhaar card, then click the checkbox.
Click the next checkbox too, if you agree validating your Aadhaar details with UIDAI.
Then enter the captcha code as given in the image to complete your verification procedure. In case you are a visually challenged person, you can request OTP for verification instead of captcha code.
Then click 'Link Aadhaar'.
A message will be displayed on the screen upon successful linking of your Aadhaar with PAN card.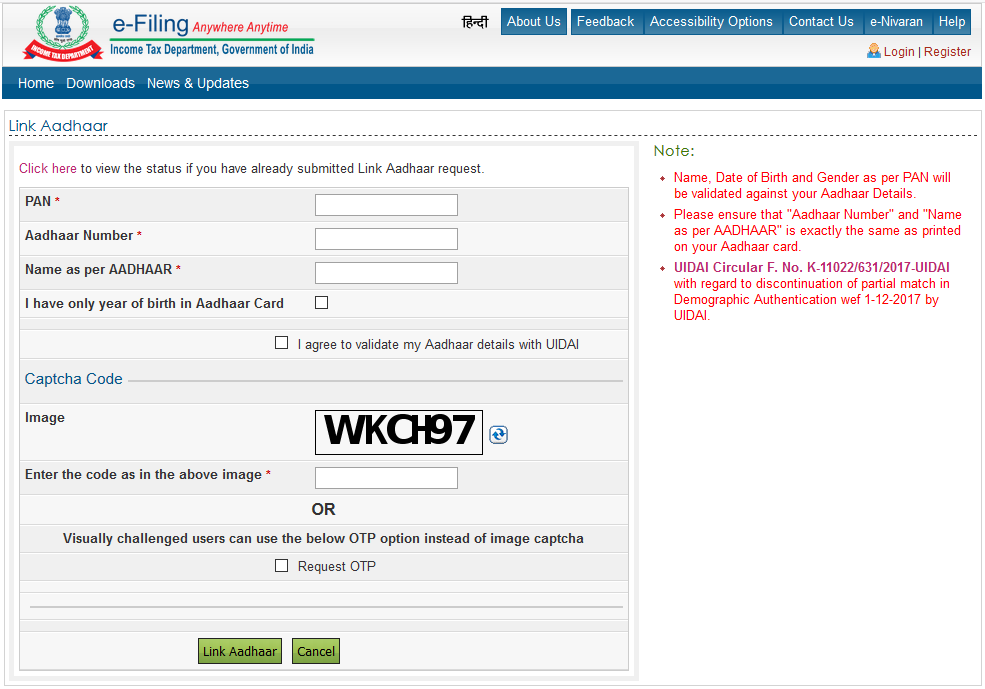 How to Solve Aadhaar and PAN Data Mismatch?
Linking Aadhaar with PAN will be successful only if the details in both Aadhaar and PAN are correct. Many PAN card holders may face the problem of data mismatch during the process of linking Aadhaar with PAN. Due to mismatch of data, they cannot able to link their Aadhaar with PAN. You can resolve this issue by making changes either via UIDAI portal or NSDL PAN site.
How to Correct PAN Details?
PAN card holders can rectify the errors by following the guidelines given below.
Go to NSDL's online PAN application portal click here.
In the Online PAN Application page, click the 'Apply Online' tab. Then select the Application Type as 'Changes or correction in existing PAN Data/ Reprint of PAN card'.
Then select the 'Category' to which you belong.
Under the Applicant information section, provide all the details correctly.
Select the title.
Provide your Last Name/Surname, First Name and Middle Name.
Provide your Date of Birth, Email ID, Mobile number and PAN number.
If you are a citizen of India, then click 'Yes'. If not, click 'No'.
Enter the captcha code and click 'Submit'
You will be taken to the next page where you will be displayed the token number. The same token number will also be sent to you via email for future reference.
On the same page, click 'Submit scanned images through e-sign' and on the bottom of the page, enter the PAN number which you want to correct.
Enter all your personal details without any error. To change or correct your PAN details, enter the details correctly and click the appropriate checkbox in case of correction.
Do not click any checkbox related to correction if you are applying for re-issuance of PAN card without any changes in it.
Then enter your address for communication and click 'Next'.
On the next page, select and upload documents such as Proof of Identity, Proof of Address, Proof of Date of Birth and Proof of PAN. Also, you need to upload photo, signature and supporting documents.
Once you have submitted, you can verify the details in preview. You can change the details if needed. Then proceed for payment.
If the communication address is within India, the fee is Rs.110. If the communication address is outside India, the fee is Rs. 1020. Payment can be made via Credit card/Debit card/Demand Draft/ Net Banking.
Upon successful payment, an acknowledgement receipt will be displayed. Applicant should take a printout of the receipt, paste photo, sign it and send it to NSDL e-gov with necessary proofs.
How to Correct Aadhaar Details?
Aadhaar card holders can change only their address in online via Aadhaar self-service portal. To change demographic and biometric details, you need to visit Permanent Aadhaar Enrolment Centre. Address can be updated only if you have your mobile number registered in the Aadhaar enrolment centre. To update address,
Go to uidai website
From the 'My Aadhaar' menu, select 'Update Address Online' option under 'Update Your Aadhaar' menu.
Login using your Aadhaar number/Virtual ID.
Enter the captcha code for verification.
Enter the OTP sent to your registered mobile number.
Enter 'Address Verifier Aadhaar' and tap 'Submit'
Open the link received via message and enter the SRN sent to your registered mobile number
Now enter the details such as house number, area, street, city, pin code, district, state, etc.,
Click 'Submit Update Request'
The address will be updated successfully in Aadhaar details.
How to Link Aadhaar with PAN in Offline?
The Central Board of Direct Taxes (CBDT) also provides offline service for those who cannot able link Aadhaar with PAN because of data mismatch.
Visit PAN service centres, NSDL or UTIISTL.
Fill the form 'Annexure I' and attach a photocopy of PAN and Aadhaar card.
It is a paid service in which customers need to pay fee according to the correction made in PAN and Aadhaar details during linking process.
The fee charged for correction in PAN details is Rs.110 whereas for correction of Aadhaar details, it is Rs.25.
---
Comments: